Basic Guide to Keyboard Percussion Instruments
What's the difference between a xylophone, marimba, and vibraphone anyway?

I have added this page to my collection of percussion-based Web material in response to questions from audience members at the former Omaha Symphony Trio performances as to the identity and basic construction of the keyboard percussion instruments in use onstage. I have had paper copies of this information available at the concert site by the instruments.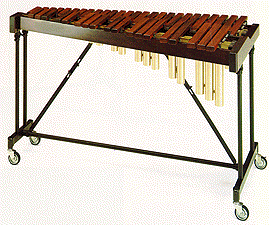 The XYLOPHONE is most often used in the symphony orchestra and concert band. The bar material is usually wood, preferably Honduras rosewood. The instrument is played with hard rubber or plastic mallets, and has a brilliant, incisive tone. The resonators (if used) are relatively short in length, extending only about halfway down the frame. The instrument sounds one octave higher than written, so the top note on a standard instrument sounds the same as the highest note on the piano.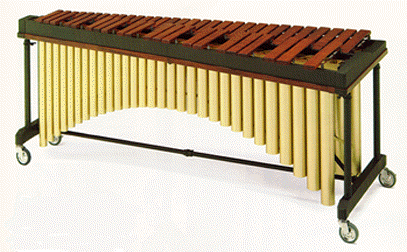 The MARIMBA is most often used as a solo instrument or in small ensembles. The bars are made of the same wood used in the xylophone, but they are cut differently, giving a mellow, warm tone that can be almost organ-like in the low register. Mallets are usually covered with yarn or cord. Resonators extend to the bottom of the frame at the lowest point. The instrument sounds where written.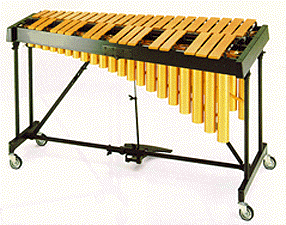 The VIBRAPHONE is most often used in jazz. The bars are made of a metal alloy, usually aluminum. The bars are cut like the mellower marimba rather than the more brilliant xylophone. Mallets are covered in cord or yarn, and are often mushroom-shaped. Resonators extend near the base of the frame at their lowest point, and like the marimba the instrument sounds where written. The vibraphone has two additional distinguishing characteristics: the pedal and the motor. The pedal mechanism works exactly like the sustain (right) pedal on the piano. The motor operates a series of fans (one for every note) that open and close the resonators at various speeds that can be controlled by the performer. These fans add a vibrato to the tone.





awarded 1999



Direct your comments to:
email at:
datimp@cox.net
-- Back to the Dwight Thomas Home Page --