Timpani (and Percussion) FAQ - Student Pages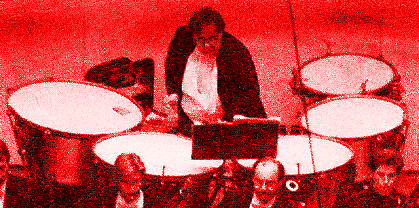 These pages are designed for aspiring professional timpanists and percussionists.




(DAT) Basic Orchestral Repertoire for Timpani


These lists are based on my database of timpani repertoire from many auditions over the last 10-15 years.

A few suggestions first:

1. Much of this repertoire is available in a few publications that are simple collections of the original parts. These are:

Classical Symphonies for Timpani
Romantic Symphonies for Timpani
Classical Overtures for Timpani
These were compiled by the late Morris Goldenberg, and are available and in print.

2. Use only the original parts when preparing this repertoire. Avoid any edited versions. You can get copies of the original parts from reprint publishers such as Kalmus and Luck's. Most professionals have large collections of photocopied parts they have acquired over the years. Access to a symphony orchestra's library is also very helpful. I would be happy to assist with reasonable requests for material from my own library, e-mail me (datimp@cox.net) for details.

3. Study of the full scores of these works is highly recommended.

4. Even though only a particular section of a work may be requested on an audition list, if at all possible the entire part must be prepared.

5. If a particular work is only available via rental from the publisher, these are your options:

a. Find another player who has the part who can copy it for you.
b. Get it out of an edited collection, then check it against the full score.
c. Order the part directly from the publisher (in some cases they will send it to you).
d. Copy the part yourself out of the full score.
This brings up questions of copyright, as long as as the part is only for your personal use and you don't distribute it that's OK.

That said, here is the list:



Samuel Barber

Medea's Meditation and Dance of Vengeance, op. 23a

B&aacutertok

Concerto for Orchestra

Beethoven

Symphony #1, op. 21
Symphony #5, op. 67
Symphony #7, op. 92
Symphony #9, op. 125

Brahms

Symphony #1, op. 68

Elgar

Enigma Variations, op. 36

Hindemith

Symphonic Metamorphosis

Frank Martin

Concerto for Seven Winds, Strings and Timpani

Mozart

Symphony #39, K. 543

William Schuman

New England Triptych

Shostakovich

Symphony #1, op.10

Richard Strauss

Burleske for Piano and Orchestra

Stravinsky

Le Sacre du Printemps

Tchaikovsky

Symphony #4, op.36

Wagner

Siegfried's Funeral Music from "Götterdämmerung"



--- To top of page ---

-- More timpani repertoire to augment this basic collection --



Direct your comments or suggestions for more questions to:
email to Dwight Thomas at:
datimp@cox.net

-- Back to the Dwight Thomas Home Page --
-- Back to the Timpani FAQ Home Page --