(DAT) Advanced Orchestral Timpani Repertoire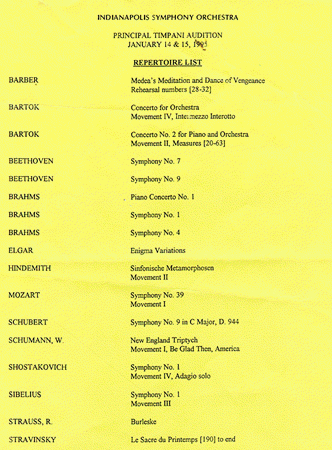 This graphic is the actual repertoire list from an Indianapolis Symphony Principal Timpani audition.

These lists are based on my database of timpani repertoire from many auditions over the last 10-15 years.

After acquisition and study of the list below, combined with the basic list also available here at this site, you will be ready for most any repertoire that you will encounter at timpani auditions.



Samuel Barber

Essay #2, op. 17
Symphony #1 in One Movement, op. 9

B&aacutertok

Concerto for Orchestra
Music for Strings, Percussion, and Celesta
Piano Concerto #2
Violin Concerto #2

Beethoven

Piano Concerto #3, op.37
Piano Concerto #5, op.73
Symphony #3, op.55
Symphony #4, op.60
Symphony #8, op.93
Violin Concerto, op.61

Berlioz

Symphonie Fantastique, op.14

Leonard Bernstein

Overture to Candide

Ernest Bloch

Schelomo: Hebraic Rhapsody

Brahms

German Requiem, op. 45
Piano Concerto #1, op. 15
Symphony #4, op. 98

Benjamin Britten

Young Person's Guide to the Orchestra, op. 34

Gustav Holst

The Planets

Mahler

Symphony #1 (for an assistant timpani position)
Symphony #2 (for an assistant timpani position)
Symphony #5
Symphony #7

Mozart

Symphony #41, K. 551

Nielsen

Symphony #4, "The Inextinguishable", op. 29

Prokofiev

Symphony #6, op. 111

Saint-Saëns

Bacchanale from "Samson et Dalila"

Schubert

Symphony #9, "The Great", D. 944

William Schuman

Symphony #6

Sibelius

Finlandia, op.26
Symphony #1, op.39
Symphony #2, op.43
Symphony #7, op.105
Violin Concerto, op.47

Richard Strauss

Don Juan, op. 20
Der Rosenkavalier: Suite
Tod und Verkl&aumlrung (Death and Transfiguration), op. 24

Stravinsky

Firebird Suite (1919 version)

Tchaikovsky

Romeo and Juliet: Overture Fantaisie
Symphony #5, op.64
Symphony #6, op.74

Wagner

Siegfried's Rhine Journey from "G&oumltterd&aumlmmerung"



Of course, there is much more interesting and challenging repertoire for timpani that does not find its way onto audition repertoire lists...



-- Back to the Timpani FAQ - Student Pages - Page One --
-- Back to the Timpani FAQ Home Page --
-- Back to the Dwight Thomas Home Page --